Sunshine Coast Stadium - Ministerial Infrastructure Designation
Adams + Sparkes Town Planning on behalf of the Sunshine Coast Council has submitted an application for a Ministerial Infrastructure Designation to support the expansion to the existing Sunshine Coast Stadium.
As a requirement of the planning assessment process, a 20 Business Day 'Public Consultation' process is required to be undertaken.
The Public Consultation process is intended to ensure community and submitter insight/opinion is obtained for consideration in the assessment of the application.
HOW TO MAKE A SUBMISSION
You can make a submission to the Infrastructure Designation team in support of, or objection to, the proposed designation, on or before 17 March 2021 via:
If you wish to discuss the proposal, please contact the Infrastructure Designations team within the Department of State Development, Infrastructure, Local Government and Planning on 1300 967 433 or at the above email address.
PROPOSED DEVELOPMENT
The Sunshine Coast Council is proposing modifications to the existing Sunshine Coast Stadium, including an extension (northern and southern) to the existing western grandstand, as well as the construction of an additional eastern grandstand. The existing northern and southern mounds, as well as playing surface are not proposed to be altered as part of the site works.
As part of the grandstand works, the development will provide for improved operational elements (i.e. change rooms, warm up/cool down spaces, catering facilities etc), as well as additional commercial spaces. Overall, the grandstand works will increase the seating capacity for sports events to 11,905 fixed seats, as well as increase the overall capacity for sports events to approximately 16,905 persons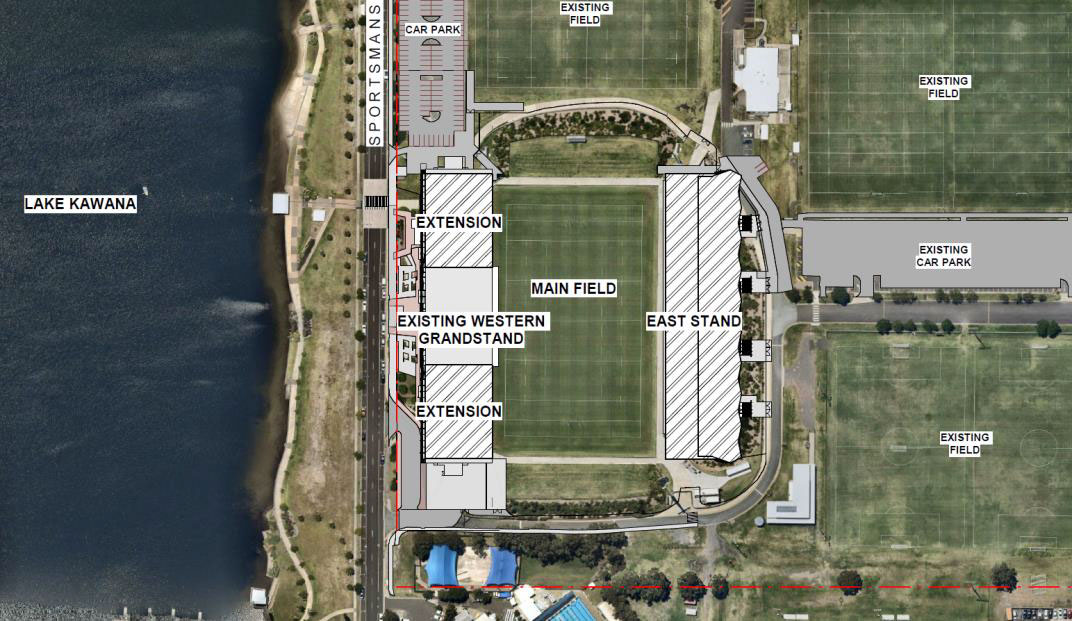 Post completion of the Sunshine Coast Stadium expansion, the site will form a Major Project for the Sunshine Coast and will provide an anchor sports facility, which will further strengthen the Kawana Waters Sport Precinct.
Through the proposed expansion, it is expected that the Sunshine Coast Stadium will attract higher profile state and national sporting events (including NRL fixtures), as well as major entertainment events.